New Boyband 'The Wanted' are on a mission to bring sexy back to the charts. The talented fivesome are on the verge of pop greatness by reaching the top spot of the UK charts with their debut single 'All Time Low'. They claim to be five ordinary guys who like having a laugh, but with their chiseled good looks, catchy pop tunes and different personalities, they have mass appeal and look set to rule the charts.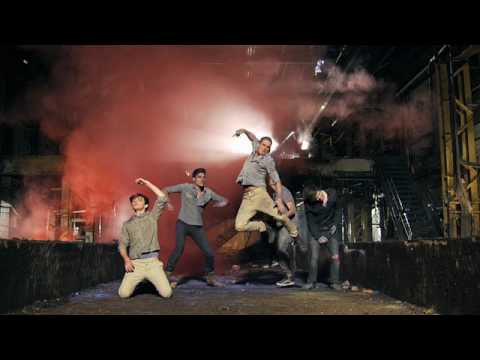 We caught up with your favourite new boyband during a whistle stop tour to promote their debut single. Hundreds of screaming girls packed the Merry Hill Shopping Centre in Dudley to catch a glimpse of the guys. After performing their single and signing autographs for fans, we sat down with the boys to learn more about The Wanted.
Tom Parker
Age: 21
Date Of Birth:04/08/1988
Hometown: Bolton
Star Sign: Leo
Favourite Band:Oasis
Favourite Food: Indian, Italian
Facebook: www.facebook.com/pages/Tom-Parker/112541692127343
Siva Kaneswaran

Age: 21
Date Of Birth:16/11/1988
Hometown: Ireland
Star Sign: Scorpio
Favourite Band:Switchfoot
Favourite Food:Shepherd's pie, Brownies, stew
Facebook: www.facebook.com/pages/Siva-Kaneswaran/120479287997537
Maximillian Alberto George
Age: 21
Date Of Birth:06/09/1988
Hometown: Manchester
Star Sign: Virgo
Favourite Band:Queen
Favourite Food:Dominos, full english, steak (as rare as it can be!)
Facebook: www.facebook.com/pages/Max-George/135740819778414
James McGuiness
Age: 20
Date Of Birth:24/07/90
Hometown: Nottingham
Star Sign: Leo
Favourite Band:Coldplay, Newton Faulkner, Jack Penate
Favourite Food:Errrrrm, pizza, pasta and pesto, chips, cheese toasties, starbars, eggs in any form
Facebook: www.facebook.com/pages/Jay-McGuiness/122835734426339
Nathan James Sykes
Age: 17
Date Of Birth:18/04/93
Hometown: Gloucester
Star Sign: Aries
Favourite Band:Boyz II Men
Favourite Food:Spag Bol, Chinese, Soup, Roast dinners
Facebook: www.facebook.com/pages/Nathan-Sykes/120157548028535
Interview by Leah Bargota
How did you all meet?
Siva - The woman who put the Saturdays together, here our lovely Jayne, decided she wanted to make a huge troop of boys or men. And make a boy band.
Nathan – Like the Blazin' Squad! lol
Where did the name of your band come from?
Nathan – Basically what happened was we just finished a track which is going to be on the album and it's based on the Wild West theme, like The Good, The Bad, The Ugly. And now we have made some wanted posters, like mug shots for ourselves.
How would you describe your music?
Max – It's more of a pop genre, but we like all different kinds of music and we want to incorporate it all somehow.
Who influences you, what music do you listen to?
Tom – I like to listen to Oasis, Stereophonics.
Max – My influences are sort of like Elvis and all that stuff.
Jay – My influences are like a folky Indie type music.
Siva – I like Motown, old soul music.
Nathan – I like modern R'n'B like John Legend, Boyz II Men.
When's your album coming out and what's it called?
Jay - We think it will be out late October early November and we're not really sure about the name, but we definitely want to include maybe a name of one of the songs.
(I suggested they call it 'The Good, The Bad, The Ugly' because their name came from those kind of films)
Nathan - One of our songs is called 'Let's Get Ugly.' Or maybe we call it 'Behind Bars', and on the album we're all behind bars to tie in with the band name.
Who writes all your songs and what are the topics?
Max – Well we've written half the album and the other half was written by different people, like Taio Cruz, Steve Mac (he did JLS – The Club Is Alive), Wayne Hector, Cathy Dennis, Guy Chambers and Carl Falk.
How busy have you been in the last month and where have you performed?
Tom – Some would say not one day off!
Nathan – We're at a stage now where red bull has no effect on us at all, lol.
Jay – It's been a bit of a party as well. We're all excited, it's been some of our birthdays recently.
Tom – Mine's next week!
Do you think that boy bands are coming back with the likes of Take That reforming and JLS making it big?
Jay – Yeah I think it does go around in a cycle, and I think we are at the start of another cycle, so we're ready for it.
Tom – We're going to stay together forever until the day we die. That's weird.
Max – What… are we going to have like a mass suicide? (Everyone laughing)
Siva – We live together we die together.
Nathan – I can't believe he just said that (Siva), he just said we're going to die on a plane crash. 
Siva – No, I was giving an example.
Nathan - I know, that's a horrible thing to say.
Tom – We aren't going to be getting on a plane with you anytime soon, lol.
What's been your biggest challenge as a boy band?
Tom – Performing in front of 30,000 at Wembley stadium, because obviously no one knew us… well hardly anyone knew us anyway, maybe just a few.
Max – We had virtually been played on radio for the first time. Probably for a couple of days. No one knew who we were.  And writing now and again can get a bit tiring.
What advice would you give to people who want to form their own boy band?
Nathan – Just to be different.
Jay – I wouldn't even say be different, just be yourself!
Where do you hope to see yourselves in 5 years time?
Tom – Hopefully not dropped, or dead, that wouldn't be good, lol.
Jay – We would've just done our 3rd world tour which went down a treat with everyone, no bad reviews… and we're just about to embark on a 3 month holiday on a big cruise ship that we bought as a band, with you on board!!!